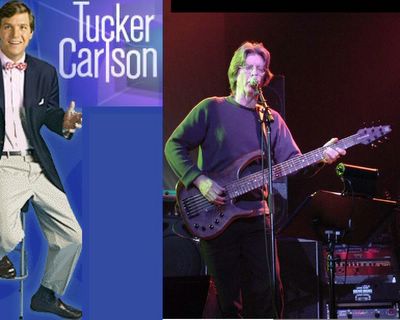 click to enlarge

This was very strange.
This week I watched Tucker Carlson, that combative, reactionary's new show on PBS. His guest was none other than Phil Lesh of the Grateful Dead. Lesh was there to publicize his memoir of his life with the band,
Searching for the Sound.
Tucker, a long-time fan (!), talked reverently with Lesh about the music, and philosophy. Since I had only seen Carlson as the snarling host of Crossfire, it was a little shocking to see him lobbing creampuffs to Lesh. But, hey, they had a lot of passionate fans (among which I include myself), including at least two Senators, CEOs, lawyers, doctors, and people in all walks of life. But Tucker, that f***er. . .that was a shocker.
---o0o---